---
Rules Change Meeting
Has been scheduled for Saturday November 15, 2014, Flying J @ 10:00 AM
---

November 22, 2014 Awards Banquet

Hockessin Memorial Hall ●1225 Old Lancaster Pike ● Hockessin DE

6:00 PM - Doors Open & Appetizers

6:30 PM - Dinner

7:30 PM - Awards Ceremony

8:30 PM - Dance Floor Open

Tickets - per person

- $40.00

Each ticket price includes appetizers, dinner, coffee, tea or soda

Tickets will be available at the October and November Club meetings or through the mail.

Deadline to purchase tickets is November 12, 2014

You must purchase a ticket and attend the banquet to receive any awards.

To purchase tickets or to reserve a table (must be at least 8 or 10 max) contact: Sandy Stumpf-Rineer (717) 786-3946 or mail request/check to: Sandy Stumpf-Rineer 598 Cinder Rd. New Providence, PA

17560

Chinese Auction

At the Awards Banquet there will be a Chinese Auction, Tickets will be on sale at the Banquet to be placed in containers of your choosing for chances to win items. Everyone is asked to bring an item to be placed on the Auction table. It does not have to be race related either. If you would like to give an item but will not be able to attend, feel free to bring it to a club meeting or give it someone that will attend. Thank you!!

Mark your calendars!
---
Congratulations to the 2014 Class Champions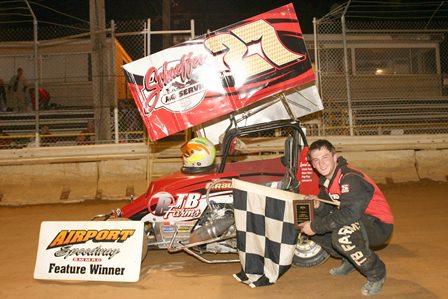 Tyler Grau
125cc Class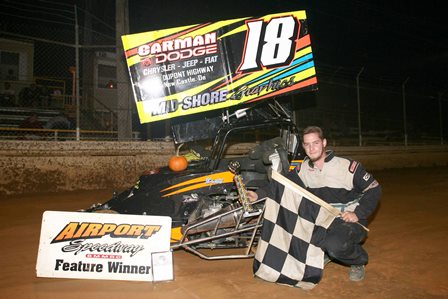 Brett Estep
250 Stock
Brett Michalski
600cc Wingless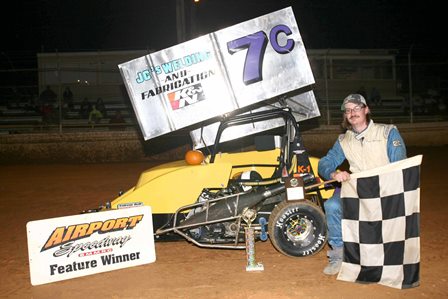 Kenneth Andreas
270 Open
---

Live streaming video by UstreamAirport Speedway Live!
---
Sponsorship/Advertising Opportunities
VIP Lounge $250
From the exclusive VIP Lounge enjoy a spectacular view of the entire racetrack. Employees, family and friends can relax in this air-conditioned room with comfortable chairs and controlled sound system giving all the play by play action.
Ø Private use of the lounge for 5 of your guests
Club Member VIP $125
Billboard $250*
Place your 8' x 10' billboard or banner on the speedway backstretch where it is visible to all spectators and racers.
*additional fees apply if artwork provided by speedway
Product Donations
Product donations are given away to spectators and racers during the weekly intermission. Prizes (product donations) are awarded through a drawing from all tickets sold for that event.
---
---
Visitors
If you are a visiting driver planning on racing at Airport Speedway this season, you must fill out the form for the 1099-Misc. These are for cars not registered with B.M.M.R.C. All Drivers use the Visiting Driver form, Drivers that have a ride with a Car Owner use 1099 Car Owner form ALSO. Please complete the on-line form and print it out, then take the form to the Sign-in booth the first time you plan on racing.
If you are under the age of 18, you must bring a copy of your birth certification or drivers license as proof of age. This is a BMMRC requirement per the BMMRC By-Laws Racing Rules and Regulations.
Race Receivers Are Mandatory
All cars entering the track for all race events must have the appropriate Race Receiver. Cars without a Race Receiver will not be scored unless the Race Receiver was accidentally lost or damaged during the race. Make sure you have one on when entering the track at all times. They will be available for rental or purchase at the sign in booth. See Sandy
Rained Out
If you would like to be notified by email or SMS, a new service at no cost is available. Click Rained Out and follow the instructions to sign up.
---
Membership Application Form
Memberships will be taken starting January 1st. Just click on the MEMBERSHIP button at the left and 
follow instructions. You will be able to fill out the form on your computer and print it out.
You will, however, still need to sign the form and send it to the Club P.O. Box along
with your check. 
Any membership renewal or fee not paid by April 15th will be charged an additional $5.00 late fee.
If you are under the age of 18, you must send in a copy of your birth certificate or 
driver's license as proof of age.

 This is a BMMRC requirement per the BMMRC By-Laws 

Racing Rules and Regulations.
Work Detail - Drivers, or an alternate, must perform work of at least ten (10) cumulative hours prior to the first scheduled season Point Race in order to be eligible for any awarded points. Work detail credit goes to the driver. The driver has the option of performing the work or paying a fee of $100 in lieu of work prior to the first scheduled season Point Race.
Car Registration Fee
Payable with annual dues.

  

This fee is for Club car registration and must be paid by each Club member registering a car.

 
All registered cars must have been inspected and competed or attempted to compete in at least three (3) point races during the registration year in order to retain its registered Club number for the following year.
All car number re-registrations must be completed before April 1st to assure retention 

of a previously registered 
car number.

  
Pit Spots
Pit spots will be taken starting January 1st. A car owner/driver may prepay the yearly pit space fee in order to 
maintain the same pit space

 from year to year.

  

The assigned car must have been signed in to at least 50% 
of the scheduled

 previous year's races and have fee paid prior to April 1st.

   

 
---
Motorcycles

Delaware Dirt Track Association
This group of motorcycles enthusiastics will be running again this season on their own nights.
To download their schedule for the days that this group will appear, go to their website:
Anyone that would like to participate or have any questions regarding the motorcycles: contact
Mark Miller (302) 242-6016
Come on out to enjoy another different type of entertainment for the family.
---

Fast Times
Fast Times recorded by AMB it Software since 2005

| | | | |
| --- | --- | --- | --- |
| 125cc | 250cc Stock | 270cc Open | 600cc |
| Evan Krautwald | Ken Cummings | Alex Swift | Angelo Mercado |
| Oct. 30, 2011 | Aug. 27, 2005 | Aug. 20, 2011 | Sept. 8, 2005 |
| 10.134 | 9.919 | 9.687 | 9.581 |
---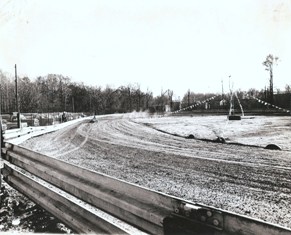 Remember When Slideshow
Remember When Part II Slideshow