---
This website and Airport Speedway Facebook page are the only official sites to be used for information purposes. Please also be aware that there are other Facebook groups/sites are using our name in any combination is unauthorized, because of this we take no responsibility nor are we associated with these unauthorized sites.
If you are identified making written comments detrimental to the Club or track on the internet, i.e. Social Media, you will be subject to disciplinary action.
---
Ed Wilberg Sr. 1940 - 2016
Ed Wilberg Sr. a former BMMRC member passed away on May 27, 2016. Our deepest sympathy goes out to his family.
---
Upcoming Events
6/4 Point Race - Jeff Krautwald Memorial
In recent years, Jeff was an active member of Airport Speedway and the Children of Jeff Krautwald, Kerry, Evan and Regan would like to honor their father at Airport Speedway with a memorial race.

The Jeff Krautwald Scholarship Fund will be adding a bonus to the 1st, 2nd and 3rd finishing position in the 125 Jr, 250 Sportsman, 600 Wingless, 270 Open Feature Event.

Everyone is invited to come help us honor Jeff on this night

For

those who did not get the pleasure of meeting the very outgoing, and willing

to help anybody man that he was, I would like to tell you about him. Jeff is

the father to fellow racer Evan, whom raced in the 125 and 270 class, and

the father of proud daughters Kerry and Regan. Jeff is also the uncle of

Phil Durham who climbed his ranks in the divisions at airport. Jeff spent

every Saturday night for many seasons racing with his family at Airport

Speedway. Jeff and Alan Durham devoted their time away from the track to the

two stroke motors where they were the go to guys for the RS 125cc motors.

Jeff was a member of his local middle school's school board for ten years

where he eventually became Vice President. On July 11, 2014, Jeff was taken

from this earth far too soon after being diagnosed with Cancer. Although

physically you could see the toll the cancer was taking on him he never

skipped a beat living out his last days with his family, vacations, driving

fast cars, and still from time to time showing up to the track. Since his

passing, the principal at the middle school picks one boy and girl who is

friendly and achieves a certain Grade Point Average to receive the

scholarship in Jeff's name that his kids have started.

Last year, was the first annual Jeff Krautwald memorial race. In the 250

stock class, Mr. Excitement Angelo Mercado, made a return to the track and

eventually to victory lane with his daughter, Ava Bellinger, and Keith

Holiday rounding out the top three. Not only was this race an exciting one,

it was a very heart felt win because Jeff himself was the previous owner of

the car Angelo put in victory lane.

The 125cc class, Ryan Heim won followed by Lavar Scott, and Buddy

Schweibinz.

In the 270 feature, it was another heart wrenching win as Kyle Spence, long

term boyfriend of Jeff's youngest daughter Regan saw himself in victory lane

followed by Kenny Andreas and Dan Lane.

Last but not least in the 600 wingless division, Carl Locuson found himself

in victory lane, with Bill Murphy and Gary Bozowski in tow.

Please come out and show your support to Jeff and the Krautwald family. We

hope to see many outside invaders this weekend with the closure of other

tracks. However, please keep in mind this is a points race therefore the age

restrictions in the 125 class will apply.
---
6/11 Point Race - Father's Day - Make a card for Dad
6/18 Point Race - Chinese Auction
6/25 Point Race - Bake Sale/ Red, White & Blue Night "Support Our Troops" Banner"
"Support Our Troops" Banner" To show appreciation to our troops, The Racers Auxiliary will have a 30"x54" banner for everyone to sign. The banner will be located behind the grandstands Saturday night. The banner reads "The Fans, Drivers, and their Crew "Support Our Troops" with the Airport Speedway Logo and address on it." The Auxiliary will copy and send the copied signed banner to all the branches of the Military. We want to thank everyone who will come to watch the races and sign the SUPPORT OUR TROOPS banner. Active or Veterans Military Personal with ID will receive FREE GRANDSTAND ADMISSION
---
Junior 600cc Wingless Group
Junior 600cc Wingless group (ages 12-16 yrs) will be making an appearance next year for a few dates (TBD). Anyone interested in participating in this group are encouraged to contact Wayne Scott Sr. (856) 299-3465 or Jeff Tank (302) 420-2842 for more information.
---
Membership Application Form
Memberships will be taken starting January 1st. Just click on the MEMBERSHIP button at the left and 
follow instructions. You will be able to fill out the form on your computer and print it out.
You will, however, still need to sign the form and send it to the Club P.O. Box along
Any membership renewal or fee not paid by April 15th will be charged an additional $5.00 late fee.
If you are under the age of 18, you must send in a copy of your birth certificate or 
driver's license as proof of age.

 This is a BMMRC requirement per the BMMRC By-Laws 

Racing Rules and Regulations.
Payable with annual dues.

  

This fee is for Club car registration and must be paid by each Club member registering a car.

 
All registered cars must have been inspected and competed or attempted to compete in at least three (3) point races during the registration year in order to retain its registered Club number for the following year.
All car number re-registrations must be completed before April 1st to assure retention 

of a previously registered 
Pit spots will be taken starting January 1st. A car owner/driver may prepay the yearly pit space fee in order to 
maintain the same pit space

 from year to year.

  

The assigned car must have been signed in to at least 50% 
of the scheduled

 previous year's races and have fee paid prior to April 1st.

   

 
Visitors
If you are a visiting driver planning on racing at Airport Speedway this season, you must fill out the form for the 1099-Misc. These are for cars not registered with B.M.M.R.C. All Drivers use the Visiting Driver form, Drivers that have a ride with a Car Owner use 1099 Car Owner form ALSO. Please complete the on-line form and print it out, then take the form to the Sign-in booth the first time you plan on racing.
If you are under the age of 18, you must bring a copy of your birth certification or drivers license as proof of age. This is a BMMRC requirement per the BMMRC By-Laws Racing Rules and Regulations.
---
The Racers Auxiliary will be selling Airport Speedway t-shirts in the candy booth (located under front grandstands) for $15 each. Selected adult sizes are available, and make sure you purchase yours when you visit on Saturdays.
We would like to thank all our shirt sponsors for sponsoring the back of the shirts!!
---
Drivers - Please remember to bring your charged Transponders & Raceivers (channel 898).
Race Receivers Are Mandatory
All cars entering the track for all race events must have the appropriate Race Receiver and ear buds. Cars without a Race Receiver will not be scored unless the Race Receiver was accidentally lost or damaged during the race. Make sure you have one on when entering the track at all times, you will be checked !! They will be available for rental at the sign in booth. See Sandy
---
Rained Out
Airport Speedway uses RainedOut and delivers alerts when needed directly to your mobile phone as SMS text messages or email. If you would like to be notified by SMS or email on events or cancellations, click Rained Out and follow the instructions to sign up.
---
Sponsorship/Advertising Opportunities
VIP Lounge $250
From the exclusive VIP Lounge enjoy a spectacular view of the entire racetrack. Employees, family and friends can relax in this air-conditioned room with comfortable chairs and controlled sound system giving all the play by play action.
Ø Private use of the lounge for 5 of your guests
Club Member VIP $125
Billboard $250*
Place your 8' x 10' billboard or banner on the speedway backstretch where it is visible to all spectators and racers.
*additional fees apply if artwork provided by speedway
Product Donations
Product donations are given away to spectators and racers during the weekly intermission. Prizes (product donations) are awarded through a drawing from all tickets sold for that event.
---

Fast Times
Fast Times recorded by AMB it Software since 2005

| | | | | |
| --- | --- | --- | --- | --- |
| 125cc | 250cc Stock | 270cc Open | 600cc Winged | 600cc Wingless |
| Evan Krautwald | Ken Cummings | Alex Swift | Angelo Mercado | Sam Locuson |
| Oct. 30, 2011 | Aug. 27, 2005 | Aug. 20, 2011 | Sept. 8, 2005 | May 7, 2016 |
| 10.134 | 9.919 | 9.687 | 9.581 | 10.288 |
---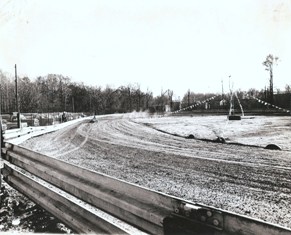 Remember When Slideshow
Remember When Part II Slideshow