---
This website and Airport Speedway Facebook page are the only official sites to be used for information purposes. Please also be aware that there are other Facebook groups/sites are using our name in any combination is unauthorized, because of this we take no responsibility nor are we associated with these unauthorized sites.
If you are identified making written comments detrimental to the Club or track on the internet, i.e. Social Media, you will be subject to disciplinary action.
---
Support Our Troops Parade
A huge Thank You goes out to Ryan Terracciano for providing the Armed Forces flags that were used on the cars.
We want to take this time to recognize the drivers who participated in the parade:
Callie Savaren - Quarter Midget
Brandon Shipley - 125cc
Robert Simmerman - 250 Sportsman
Kristen Landwher - 270 Open
Carl Locuson - 600cc
Gary Bozowski - 600cc
---
Bake Sale
A big Thank You goes out to everyone that donated baked items for our Bake Sale.
Raffle
A big Thank You to Jeannette Locuson for donating the pallet flag that was raffled off.
---
June 25, 2016 "Support Our Troops" Point Race 9 Results
125cc Feature Finish
1. Ryan Heim (10.699), 2. Buddy Schweibinz, 3. Holden Eckman, 4. Brandon Shipley, 5. Johnny Trendler, 6. Devin Porch, 7. Connor Bollinger, 8. Juel Acosta, 9. Liam Mulherin, 10. Jaden Foster
250 Sportsman Feature Finish
1. Lee Reinhart (10.440), 2. Keith Holiday, 3. Trey Jeffords, 4. Matt Andrews, 5. Robert Simmerman, 6. DaShawn Anderson, 7. Madison Savaren, 8.Robert Miles, DNS Matt Pfahler
600cc Feature Finish
1. Dustin Stoltzfus, 2. Kyle Melvin, 3. Richie Mellor, 4. PJ Williams, 5. Jon Keller, 6. Carl Locuson, 7. Sam Locuson, 8. Mark Landwher, 9. Josh Conover, 10. Gary Bozowski, 11. Wayne Scott, 12. Wayne Scott Jr, 13. Don Hess, 14. Christopher Fenimore, 15. Amanda Onimus. 16. Drew Richmond, 17. Tyler Tank (10.739), 18. Nathan Smith, 19. Sam LaMothe, 20. Patrick Mitsdarfer
270 Open Feature Finish
1. Ken Andreas (10.172), 2. Jonathan John, 3. Sam LaMothe, 4. Lee Reinhardt, 5. James Cubbage, 6. Decker Morrow, 7. Anthony Chvostal, 8. George Summers, 9. Ron Ford, 10. Kristen Landwher, 11. Alex Reinsmith, 12. Donald Bouchelle, 13. Tom Landwher, 14. Allen Seiberling, 15. Tyler Tank, 16. Adam Giovanetti, DNS Andrew Locuson
, Chris Locuson
---
Upcoming Events
7/2 Closed Observance of July 4th
7/9 Point Race
7/16 Point Race
7/23 Point Race - Banner Night
Banners must be handmade and not to exceed the size of 4'x4' or they will not be judged
Kids and Adults - prizes will be awarded in both categories for top 3 banners
Kids group up to the age 12
Adult group 13 and over
7/30 Point Race
8/6 Open Show - Summer Slam Wingless
Gates Open at 1:00pm
Warm - ups at 4:00 pm
All Classes are Wingless
Format
Double Heats with passing points
Twin 20 Lap Features
600cc Battle of the belt
125cc age 10 and Up
125cc and Sportsman twin 15 lap features if under 12 cars
600cc will only start 22 cars for the feature
Pre Registration must be postmarked by 7/15/16
Questions please contact Mark Landwher at 856-883-4637
Pre-entry Form
---
Membership Application Form
Memberships will be taken starting January 1st. Just click on the MEMBERSHIP button at the left and 
follow instructions. You will be able to fill out the form on your computer and print it out.
You will, however, still need to sign the form and send it to the Club P.O. Box along
Any membership renewal or fee not paid by April 15th will be charged an additional $5.00 late fee.
If you are under the age of 18, you must send in a copy of your birth certificate or 
driver's license as proof of age.

 This is a BMMRC requirement per the BMMRC By-Laws 

Racing Rules and Regulations.
Payable with annual dues.

  

This fee is for Club car registration and must be paid by each Club member registering a car.

 
All registered cars must have been inspected and competed or attempted to compete in at least three (3) point races during the registration year in order to retain its registered Club number for the following year.
All car number re-registrations must be completed before April 1st to assure retention 

of a previously registered 
Pit spots will be taken starting January 1st. A car owner/driver may prepay the yearly pit space fee in order to 
maintain the same pit space

 from year to year.

  

The assigned car must have been signed in to at least 50% 
of the scheduled

 previous year's races and have fee paid prior to April 1st.

   

 
Visitors
If you are a visiting driver planning on racing at Airport Speedway this season, you must fill out the form for the 1099-Misc. These are for cars not registered with B.M.M.R.C. All Drivers use the Visiting Driver form, Drivers that have a ride with a Car Owner use 1099 Car Owner form ALSO. Please complete the on-line form and print it out, then take the form to the Sign-in booth the first time you plan on racing.
If you are under the age of 18, you must bring a copy of your birth certification or drivers license as proof of age. This is a BMMRC requirement per the BMMRC By-Laws Racing Rules and Regulations.
---
The Racers Auxiliary will be selling Airport Speedway t-shirts in the candy booth (located under front grandstands) for $15 each. Selected adult sizes are available, and make sure you purchase yours when you visit on Saturdays.
We would like to thank all our shirt sponsors for sponsoring the back of the shirts!!
---
Drivers - Please remember to bring your charged Transponders & Raceivers (channel 898)
---
Rained Out
Airport Speedway uses RainedOut and delivers alerts when needed directly to your mobile phone as SMS text messages or email. If you would like to be notified by SMS or email on events or cancellations, click Rained Out and follow the instructions to sign up.
---
Sponsorship/Advertising Opportunities
VIP Lounge $250
From the exclusive VIP Lounge enjoy a spectacular view of the entire racetrack. Employees, family and friends can relax in this air-conditioned room with comfortable chairs and controlled sound system giving all the play by play action.
Ø Private use of the lounge for 5 of your guests
Club Member VIP $125
Billboard $250*
Place your 8' x 10' billboard or banner on the speedway backstretch where it is visible to all spectators and racers.
*additional fees apply if artwork provided by speedway
Product Donations
Product donations are given away to spectators and racers during the weekly intermission. Prizes (product donations) are awarded through a drawing from all tickets sold for that event.
---

Fast Times
Fast Times recorded by AMB it Software since 2005

| | | | | |
| --- | --- | --- | --- | --- |
| 125cc | 250cc Stock | 270cc Open | 600cc Winged | 600cc Wingless |
| Evan Krautwald | Ken Cummings | Alex Swift | Angelo Mercado | Sam Locuson |
| Oct. 30, 2011 | Aug. 27, 2005 | Aug. 20, 2011 | Sept. 8, 2005 | May 7, 2016 |
| 10.134 | 9.919 | 9.687 | 9.581 | 10.288 |
---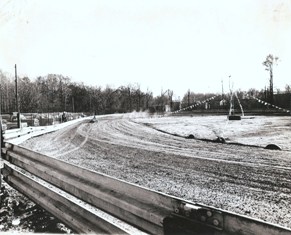 Remember When Slideshow
Remember When Part II Slideshow