---
This website and Airport Speedway Facebook page are the only official sites to be used for information purposes. Please also be aware that there are other Facebook groups/sites are using our name in any combination is unauthorized, because of this we take no responsibility nor are we associated with these unauthorized sites.
If you are identified making written comments detrimental to the Club or track on the internet, i.e. Social Media, you will be subject to disciplinary action.
---
Airport Speedway September 16, 2017 Point Race 13 Results
Jr. 125cc Feature Finish
1. Sarah Napora, 2. Jonathan Dougherty, 3. Liam Mulherin, 4. Devin Dvorak DNS: Devin Porch
Junior 125cc Feature Winner - Sarah Napora
250cc Sportsman Feature Finish
1. Andrew Locuson, 2. Tyler Reinhardt, 3. Ryan Heim, 4. Johnny Trendler, 5. Trey Jeffords, 6. Jacob Byron, 7. Buddy Schweibinz, 8. Eddy Mort, 9. Matt Pfahler, 10. Connor Bollinger, 11. Alex Funari DNS Matt Andrews
250 Sportsman Feature Winner - Andrew Locuson
600cc Wingless Feature Finish
1. Lavar Scott, 2. PJ Williams, 3. Wayne Scott Jr, 4. Sam Locuson, 5. Geordan Marrero, 6. Bobby Butler, 7. Stewart Carmichael, 8. Drew Richmond, 9 Gary Bozowski, 10. Ryan Quackenbush, 11. Mark Landwher, 12. Donald Bouchelle, 13. Christopher Fenimore, 14. Wayne Scott, 15. Rich Mellor, 16. Nick Walton, 17. Will Butler, 18. Brandon Pavel, 19. Lee Reinhardt, 20. Josh Conover DNQ Macy Litchauer, Nathan Smith, Dave Nelson, Kyle Melvin, Robert Miles, Amanda Onimus
600cc Feature Winner - Lavar Scott
270cc Open Feature Finish
1. Alex Swift, 2. Tyler Reinhardt, 3. Brandon Shipley, 4. Billy Murphy, 5. Decker Morrow, 6. Tom Landwher, 7. Jonathan John, 8. Tyler Grau, 9. Anthony Chvostal, 10. Thomas Gaylor, 11. Robert Miles. 12. Richie Keller III, 13. Chris Locuson, 14. Scott Hulmes, 15. Chandler Goldsboro, 16. Jonathan West, 17. Ron Ford, 18. Kristen Landwher
270 Open Feature Winner - Alex Swift
---
Upcoming Events
September
23 Point Race - Members Memorial
30 Point Race - Treat or Treat Night
Wear a costume and trick or treat with your drivers!
Reminder for Drivers: bring plenty of candy for kids who will be trick or treating through the pits.
---
October 11, 2017 BMMRC Club Meeting Elections @ Flying J - 7:30PM
Voting. Ballots will be distributed at the October general membership meeting to each individual upon verification of currently active membership. Offices may be voted on separately or combined. Where an individual has been nominated for 2 or more offices, the highest ranking office will be voted on and counted first. The candidate nominated for multiple offices will then have his/her name removed from or left on the ballot for the next position based on the count of the previous vote. The Nominating Committee will count the votes in the presence of the general membership. In the event that an office or offices must be voted on separately, the order shall be: President, Vice-President, and any other elected office and then the Board of Directors.
Absentee ballots will be accepted from those who have stated a reasonable request for one, in writing, from the Club Secretary prior to the election meeting. Reasonable request may include serious illness, work schedule, death in family, travel schedule, etc. No absentee ballots may be requested by/for anyone at the October meeting.
Nominees are:
President: (Vote for 1)
Tom Landwher
Jeff Tank
Vice President: (Vote for 1)
Ron Ford
Board Of Directors (Vote for 3)
Donald Bouchelle
Jack Conover Sr.
Mark Landwher
Robert Miles
Matthew Pfahler
---
November 11, 2017 Awards Banquet
Hockessin Memorial Hall ●1225 Old Lancaster Pike ● Hockessin DE
6:00 PM - Doors Open & Appetizers
6:30 PM - Dinner
7:30 PM - Awards Ceremony
8:30 PM - Dance Floor Open
Tickets - per person - $40.00
Each ticket price includes, appetizers, dinner, coffee, tea or soda .
Tickets will be on sale at the track and club meetings
To purchase tickets or to reserve a table (must be at least 8 or 10 max) contact: Sandy Stumpf-Rineer (717) 786-3946 or mail request/check to: Sandy Stumpf-Rineer 598 Cinder Rd. New Providence, PA
Deadline to purchase tickets - 11/1/17
You must purchase a ticket and attend the banquet to receive any awards.
Chinese Auction
At the Awards Banquet there will be a Chinese Auction, Tickets will be on sale at the Banquet to be placed in containers of your choosing for chances to win items. Everyone is asked to bring an item to be placed on the Auction table. It does not have to be race related either. If you would like to give an item but will not be able to attend, feel free to bring it to a club meeting or give it someone that will attend. Thank you!!
Mark your calendars!
---
---
Membership Application Form
Memberships will be taken starting January 1st. Just click on the MEMBERSHIP button at the left and 
follow instructions. You will be able to fill out the form on your computer and print it out.
You will, however, still need to sign the form and send it to the Club P.O. Box along
Any membership renewal or fee not paid by April 15th will be charged an additional $5.00 late fee.
If you are under the age of 18, you must send in a copy of your birth certificate or 
driver's license as proof of age.

 This is a BMMRC requirement per the BMMRC By-Laws 

Racing Rules and Regulations.
Payable with annual dues.

  

This fee is for Club car registration and must be paid by each Club member registering a car.

 
All registered cars must have been inspected and competed or attempted to compete in at least three (3) point races during the registration year in order to retain its registered Club number for the following year.
All car number re-registrations must be completed before April 1st to assure retention 

of a previously registered 
Pit spots will be taken starting January 1st. A car owner/driver may prepay the yearly pit space fee in order to 
maintain the same pit space

 from year to year.

  

The assigned car must have been signed in to at least 50% 
of the scheduled

 previous year's races and have fee paid prior to April 1st.

 
---
450 4-stroke
3/1 - A decision has been made to allow the 450cc to compete in the 270 Open class this year.
The 450cc addition to the 270 Open Class is on a trial period for this year. Drivers may join the club but are ineligible to run for points.
450cc 4 - stroke stock bore & stroke, stock cams, stock valves, no porting or polishing, stock RPM. 450cc 4 - stroke engines may use fuel injection with OEM throttle body modified for use with alcohol.
---
Sponsorship/Advertising Opportunities
We are actively seeking Sponsors for our 2017 Race Season.
Highlights about Airport Speedway:
Airport Speedway has been offering some of the best racing entertainment for over 50 years.
The track is very fan friendly and offers affordable entry fees and children under six are free.
The Airport Speedway is a 1/8-clay oval racetrack, and is always in good race condition.
This is always an exciting night to treat family, friends, and business associates to a great night out.
We have a great concession stand located right by the grandstands for our fans
Be part of one of this country's fastest growing spectator sports.
Thank you for your time and for considering Airport Speedway for sponsorship. We at Airport Speedway look forward to having you join our Race Family in 2017.
To become an Airport Speedway Sponsor, please feel free to download the Sponsor Form here
---
2017 Rule Changes
Article VI, Section 1, Page 6
Change wording to:
The following offices are elective: President, Vice-President, Board of Directors and any other position as the Board of Directors deem to be elective. The position of Secretary, Treasurer will be an appointed position.
Section Four, Item 1a), Page 12
Change wording to:
Participants will draw for positions. Deadline for drawing will be one (1) hour before the scheduled start of the Heat Races. Late cars for Point Races will be placed in Heats as though they drew last position according to sign-ins. Drivers will be listed in ascending order according to number drawn on draw list.
Section Four, Rule h), Page 12
Change wording to:
All Feature events will be lined up "Heads-up" from Heat Race finishes followed by "B" Main/Consi finishers. Cars that do not finish; those that are disqualified (either a race DQ or weight DQ) or those that do not start a Heat Race will qualify behind all cars finishing Heat Races.
Section Five, Rule 11, Page 16
Change wording to:
No mirrors permitted on or in any race car. Radio communication equipment permitted on or in any race car that will only be used between the driver and Scorer.
Section Eight, Item 27, Page 26
Add wording:
600cc wingless micro sprints must have their number on right side of car in upper left sail panel; the Minimum number height is six (6) inches.
Section Eleven, Item 4c, Page 30
Change wording to:
Stock OEM or OEM equivalent Crank and Rod, no modifications, aftermarket OEM replacement rods may be used (ex. Wiseco, Vesrah, Hot Rods, Pro-X etc.) Aftermarket OEM replacements cranks are legal pending approval by technical committee.
Section Eleven, Item 4e, Page 30
Change wording to:
One Stock Honda or aftermarket OEM equivalent head gasket must be used.
600cc Micro Sprint Universal Engine Rules
Section Twelve, Item 13, Page 32
Add wording:
b) Fuel tanks must contain a fuel bladder.
---
Visitors
If you are a visiting driver planning on racing at Airport Speedway this season, you must fill out the form for the 1099-Misc. These are for cars not registered with B.M.M.R.C. All Drivers use the Visiting Driver form, Drivers that have a ride with a Car Owner use 1099 Car Owner form ALSO. Please complete the on-line form and print it out, then take the form to the Sign-in booth the first time you plan on racing.
If you are under the age of 18, you must bring a copy of your birth certification or drivers license as proof of age. This is a BMMRC requirement per the BMMRC By-Laws Racing Rules and Regulations.
---
Drivers - Please remember to bring your charged Transponders & Raceivers (channel 898)
---
Rained Out
Airport Speedway uses RainedOut and delivers alerts when needed directly to your mobile phone as SMS text messages or email. If you would like to be notified by SMS or email on events or cancellations, click Rained Out and follow the instructions to sign up.
---
---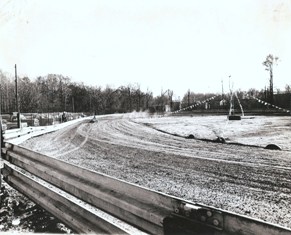 Remember When Slideshow
Remember When Part II Slideshow