July 26, 2014 Point Race 14 Results
125cc Feature Finish
1. Tyler Grau, 2. Decker Morrow, 3. Ryan Heim, DNF Ronald Ford Jr.
Tyler Grau
125cc Feature Winner
250 Stock Feature Finish
1. Lee Reinhardt, 2. Joe Bednarek, 3. Kyle Melvin, 4. Brett Estep, 5. Lew Schwander, 6. Will Federowic, 7. Robert Miles, 8. Dashawn Anderson, DNF Matt Pfahler
Lee Reinhardt
250 Stock Feature Winner
600cc Wingless Feature Finish
1. Barry Pollard, 2. Brett Michalski, 3. Drew Richmond, 4. Alex Swift, 5. Rich Mellor, 6. Wayne Scott, 7. Tyler Tank, 8. Charles Cobourn, 9. Gary Bozowski, 10. Mark Landwher, 11. Sal Tossona, DNF Richard Bassler, Carl Locuson, Bryan Radcliff, DNS Amanda Onimus
Barry Pollard
600cc Wingless Feature Winner
270 Open Feature Finish
1. David Dornblaser Jr, 2. Ken Andreas, 3. Dana Watkins, DNF Jimmy Potts, Chris Seivert, Taylor Shissler, Tim Gilbert, Kory Shissler, Chris Locuson, DNS Jonathan John, Kyle Melvin, Donald Bouchelle, Luke Fogg
Dave Dornblaser
270 Open Feature Winner
---
Upcoming Events

August 2

Summer Slam Non Points Open Competition

Qualifying format:

Max 6 cars per group, organized by class (groups determined by pill pull)

2 minute qualifying sessions for each group (caution laps do not count towards time)

Your top time from your qualifying session will be your qualifying time

Feature lineups:

Top 10 (ten) qualifiers from each class will be entered in a starting position re-draw

,the remaining cars will be lined up based on time

If a B main is needed, 4 cars will qualify through the B (B main will be 15 laps)

125/4 stroke classes start 25 cars

Wingless 250/270s and wingless 600s start 20 cars

Format for each feature event:

Tentative schedule:

warm-ups (starting @ 6pm)

wingless 600s

wingless 250/270s

125/4 strokes
Airport 250 Stocks & Lanco Stocks/Sportsman

Qualifying (starting at 7pm)
wingless 600s
wingless 250/270s
125/4 strokes
Airport 250 Stocks & Lanco Stocks/Sportsman
B mains (if necessary)

Intermission

Features - 35 laps

Double file restarts until lap 20


"The 600 Summer Slam" wingless 600s
"The Open Challenge" wingless 250/270s
125/4 strokes
"The Grudge Match" Airport 250 Stocks & Lanco Stocks/Sports

Notes:
If your class has a B main, the cars in the A main will have a brief warm-up session after intermission
2 minutes of qualifying should give you 8-10 solid laps

Members $30 car entry/$15 pit pass
Non members $35 car entry/$20 pit pass

Contact Alex Swift if you have any questions: 609-420-8645

Annual Kids Bike Night!

Let the kids take the track this weekend with our Annual Kids Bike Night!
Age groups:
4 and under - trikes and trainers,
5-7, 8-10, & 11-13. All kids must provide their own bike and must have a helmet.
Kids 11-13 must also have socks and Tie up Sneakers.

Registration deadline was 7/19
---
Looking for a track that has races on Saturday Nights? Look no further, Airport Speedway is available, and you don't have to be a member to race at our track. Everyone is welcomed to come join us for the fierce competition that only you as drivers can give our race fans.
Airport has banked the track and it now has 2 grooves which allows for some exciting racing. You can run the top or bottom your choice.
FOR THE REMAINDER OF THE RACE SEASON
ATTENTION ALL DRIVERS IN THE 125cc, 250 STOCK, 270 OPEN AND 600cc CLASS
It has been decided to make all classes $300 to win based on a minimum of 15 cars in each class.
This will apply to every race scheduled that isn't a "special event" night.
Guaranteed $25.00 to take the green
---

Live streaming video by UstreamAirport Speedway Live!
You may have noticed, we are trying new things here at Airport Live. After receiving some positive feedback we will continue to stream as we have been the last 2 weeks. However, streaming from the infield is tough on the camera man and it is also hard to get a good quality shot. So from now on streaming from the infield will no longer happen. BUT, we will be adding a few things such as LIVE pit walk throughs and LIVE driver interviews. Due to the small number of viewers for heat races, we will be streaming FEATURES ONLY and shutting down the stream between each race UNLESS we have arranged a driver interview. The stream will come back up just before the wave lap (1 to go) for each race. Another thing, it may be wise to RESTART your browser if the stream locks up on you. Most of the time our stream is working fine but you may have had an interruption in your connection so you will have to refresh your browser page. Last but certainly not least, A big thank you to Ryan Terracciano for being an outstanding camera man and Airport Live Manager this year! This wouldnt be possible without him! Tune is each week to catch our live coverage of the races AND newly added PIT WALKTHROUGH and DRIVER INTERVIEWS!
Thanks - The Airport Live Team
---
Attention: Clarification; due to the conflicts that have been posted on various Facebook pages, forums etc. concerning Airport Speedway's Saturday Race night Special events. First off, if it's not posted on the parent website Airport Speedway or Airport Speedway's Facebook page IT IS NOT OFFICIAL. Anyone may copy or share from only these two sites to pass along the info regarding Airport Speedway.
The 2014 Race Schedule and the Saturday night running order may change to accommodate the Special events that are being planned but we want to keep it consistent and organized for everyone involved.
We appreciate the interest of spreading the news for Airport Speedway but let's keep it official. Thank you.
---
Sponsorship/Advertising Opportunities
VIP Lounge $250
From the exclusive VIP Lounge enjoy a spectacular view of the entire racetrack. Employees, family and friends can relax in this air-conditioned room with comfortable chairs and controlled sound system giving all the play by play action.
Ř Private use of the lounge for 5 of your guests
Club Member VIP $125
Billboard $250*
Place your 8' x 10' billboard or banner on the speedway backstretch where it is visible to all spectators and racers.
*additional fees apply if artwork provided by speedway
Product Donations
Product donations are given away to spectators and racers during the weekly intermission. Prizes (product donations) are awarded through a drawing from all tickets sold for that event.
If you are interested in any of the opportunities contact: Barbara Sparks
---
Race Fans: The tennis ball toss is back at Airport Speedway! Each week the drivers of the first feature race will toss balls labeled
with car numbers for their race. If you have the ball number of the winning cars you will a prize ! Prizes could be cash, or gift card for sponsors business.
1st $25, 2nd $15, 3rd $10
Interested in sponsoring a race? For details see Melissa Tank at the track Turn 4 bleachers or call 302-824-2754
---
Visitors
If you are a visiting driver planning on racing at Airport Speedway this season, you must fill out the form for the 1099-Misc. These are for cars not registered with B.M.M.R.C. All Drivers use the Visiting Driver form, Drivers that have a ride with a Car Owner use 1099 Car Owner form ALSO. Please complete the on-line form and print it out, then take the form to the Sign-in booth the first time you plan on racing.
If you are under the age of 18, you must bring a copy of your birth certification or drivers license as proof of age. This is a BMMRC requirement per the BMMRC By-Laws Racing Rules and Regulations.
Race Receivers Are Mandatory
All cars entering the track for all race events must have the appropriate Race Receiver. Cars without a Race Receiver will not be scored unless the Race Receiver was accidentally lost or damaged during the race. Make sure you have one on when entering the track at all times. They will be available for rental or purchase at the sign in booth. See Sandy
Rained Out
If you would like to be notified by email or SMS, a new service at no cost is available. Click Rained Out and follow the instructions to sign up.
---
Membership Application Form
Memberships will be taken starting January 1st. Just click on the MEMBERSHIP button at the left and 
follow instructions. You will be able to fill out the form on your computer and print it out.
You will, however, still need to sign the form and send it to the Club P.O. Box along
with your check. Questions contact 

Barbara Sparks

 or phone 856-935-8769.
Any membership renewal or fee not paid by April 15th will be charged an additional $5.00 late fee.
If you are under the age of 18, you must send in a copy of your birth certificate or 
driver's license as proof of age.

 This is a BMMRC requirement per the BMMRC By-Laws 

Racing Rules and Regulations.
Work Detail - Drivers, or an alternate, must perform work of at least ten (10) cumulative hours prior to the first scheduled season Point Race in order to be eligible for any awarded points. Work detail credit goes to the driver. The driver has the option of performing the work or paying a fee of $100 in lieu of work prior to the first scheduled season Point Race.
Car Registration Fee
Payable with annual dues.

  

This fee is for Club car registration and must be paid by each Club member registering a car.

 
All registered cars must have been inspected and competed or attempted to compete in at least three (3) point races during the registration year in order to retain its registered Club number for the following year.
All car number re-registrations must be completed before April 1st to assure retention 

of a previously registered 
car number.

  
Contact 

Barbara Sparks

 or (856) 935-8769 for availability of numbers before submitting your 

application.
Pit Spots
Pit spots will be taken starting January 1st. A car owner/driver may prepay the yearly pit space fee in order to 
maintain the same pit space

 from year to year.

  

The assigned car must have been signed in to at least 50% 
of the scheduled

 previous year's races and have fee paid prior to April 1st.

   

 
Questions contact 

Barbara Sparks

 or phone 856-935-8769



---
Motorcycles

Delaware Dirt Track Association
This group of motorcycles enthusiastics will be running again this season on their own nights.
To download their schedule for the days that this group will appear, go to their website:
Anyone that would like to participate or have any questions regarding the motorcycles: contact
Mark Miller (302) 242-6016
Come on out to enjoy another different type of entertainment for the family.
---

Fast Times
Fast Times recorded by AMB it Software since 2005

| | | | |
| --- | --- | --- | --- |
| 125cc | 250cc Stock | 270cc Open | 600cc |
| Evan Krautwald | Ken Cummings | Alex Swift | Angelo Mercado |
| Oct. 30, 2011 | Aug. 27, 2005 | Aug. 20, 2011 | Sept. 8, 2005 |
| 10.134 | 9.919 | 9.687 | 9.581 |
---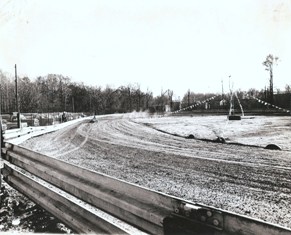 Remember When Slideshow
Remember When Part II Slideshow